2021 was a breakthrough year for plant-based foods, cultivated meat and fermentation from Israel. Check out our top 10 moments from a landmark year.
2021 marked an exceptional year of growth for alternative protein in Israel. Investments totaled $631 million in 2021, representing a 600% YoY growth from 2020, and a record 11 new alternative proteins startups were founded.
It was also a year of many firsts – the largest investment in cultivated meat in the world was made when Future Meat raised $347 million; Redefine Meat launched in Europe and became the first plant-based company to offer whole-cut meat; and five alternative sea-food companies were founded in Israel – more than anywhere else in the world.
For GFI Israel, it was a year of continued growth in which we succeeded in expanding our reach and impact. Here are a few of our favorite moments from a memorable year, made possible by the support of our donor family. 
Ahead of his first meeting with President Biden in August, Israeli Prime Minister Naftali Bennett asked his Minister of Environmental Protection to organize an urgent briefing with leading experts of Israeli technological solutions for climate change.

The Minister (right, with GFI Israel Managing Director Nir Goldstein) requested that GFI present on the environmental impact of traditional protein production, alternative protein technologies and their climate advantages, Israel's leadership in research and innovation, and recommendations for USA-Israel actions. The PM was very engaged and even had his team print our presentation to share with President Biden.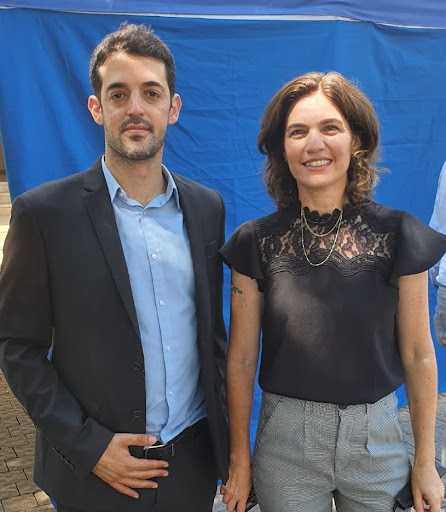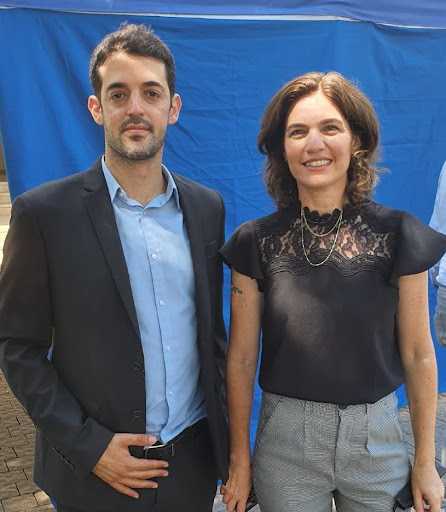 Nir Goldstein, Managing Director, GFI Israel and Tamar Zandberg, the Minister of Environmental Protection. 
Israeli President Isaac Herzog hosted a reception for the Israeli delegation to COP26, which included

a presentation from GFI Israel Managing Director Nir Goldstein

. President Herzog tasted cultivated meat prepared by FutureMeat, becoming the world's first president to have tasted cultivated meat (following former Israeli prime minister Benjamin Netanyahu becoming world's first PM to taste cultivated meat back in 2020), and stated that presenting Israeli innovation in alternative proteins globally is imperative. Read more on our

media statement

covering the event.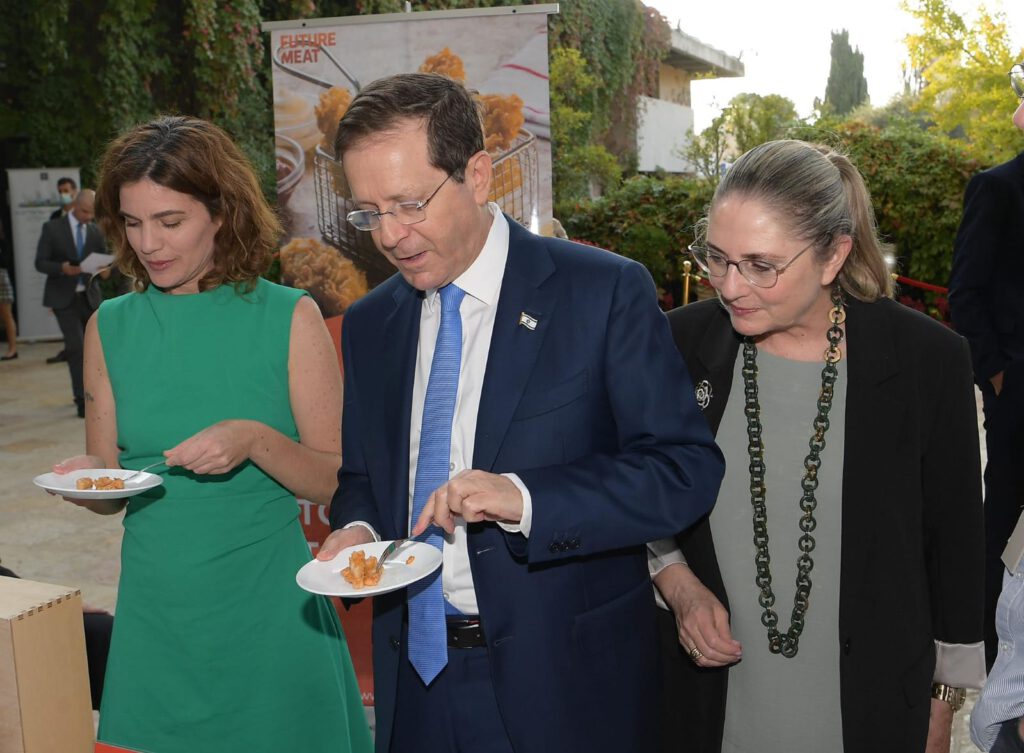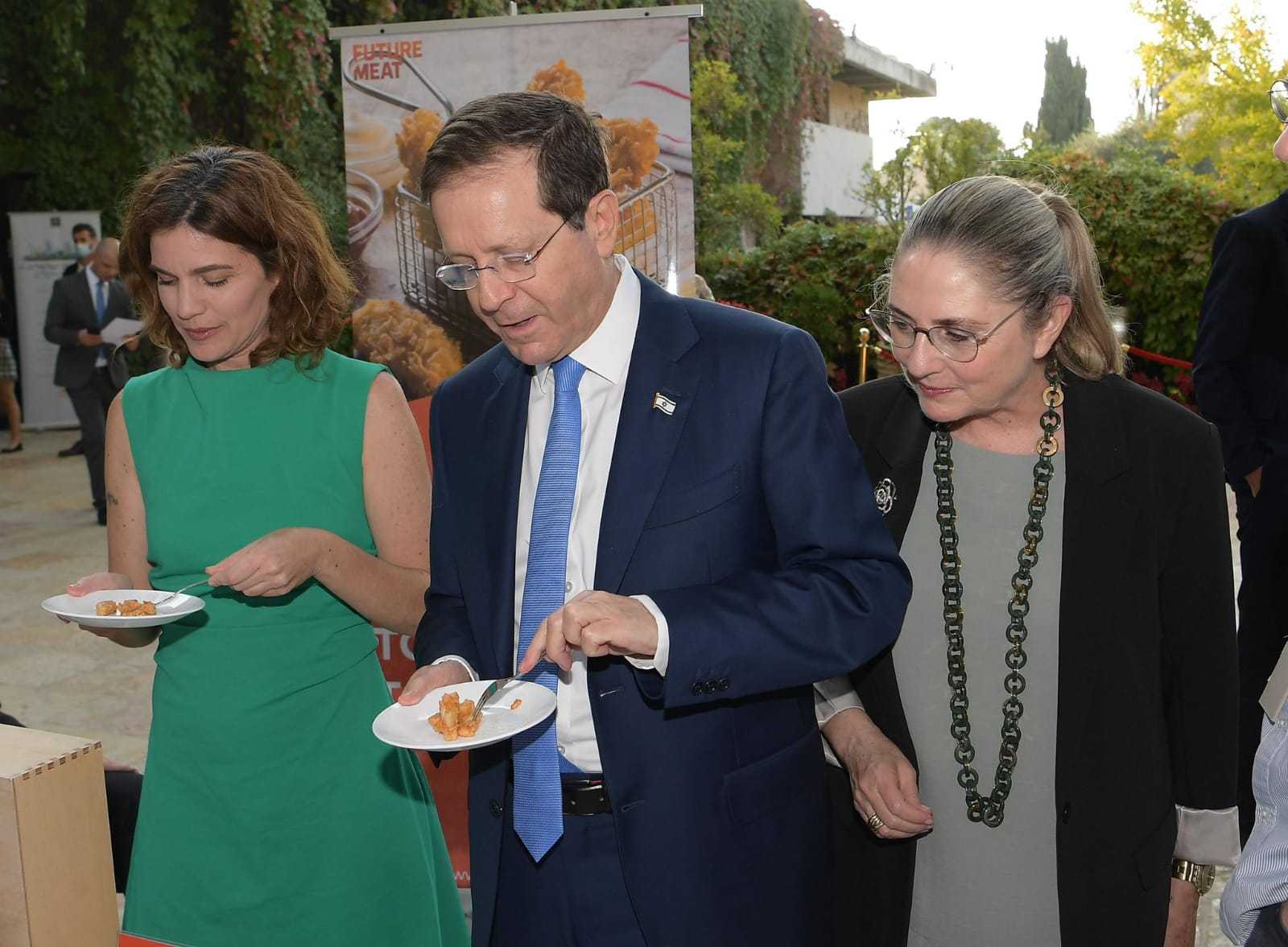 Tamar Zandberg, The Minster of Environmental Protection, Mr. Issac Herzog, The Israeli President, and his wife, Michal Herzog. 
​​

Together with the Israeli Ambassador to the UN Organizations in Rome, GFI Israel organized an alternative protein event for the United Nations' Food and Agriculture Organization

(FAO). The event was attended by 80 senior management members and international delegates to the FAO, International Fund For Agricultural Development, and World Food Programme. GFI Israel Managing Director Nir Goldstein gave opening remarks, followed by Aleph Farms' cultivated meat tastings and a presentation by Strauss, Israel's second-largest food manufacturer. We called for the FAO officials to focus on alternative protein in their food and climate strategies. 
Nir Goldstein Managing Director, GFI Israel and Yael Rubinstein, Ambassador at Israeli Mission to the UN Agencies in Rome.
The Israeli Cultivated Meat consortium received a preliminary approval by the Israel Innovation Authority (IIA) and will receive up to $16 million in government funding.

The consortium consists of 12 companies and nine academic labs and is headed by Tnuva (Israel's largest food company) and GFI grantee Gaya Savion. Initiated at an event organized by GFI and the IIA, and supported by GFI's scientific input, the consortium aims to pilot scaling production of cultivated meat. 
GFI completed the National Policy Plan to guide government support of alternative protein in Israel.

Members of GFI Israel were invited to present the Plan to the Israeli Minister of Agriculture, Oded Forer. Our plan, which identified the opportunities and barriers for global leadership in this field, aims to drive $300M in government investment into academic research and R&D infrastructure and could generate over 50,000 jobs in Israel. The Plan is aimed to serve as a benchmark for policy work in other countries as well.
Ari Ben Dror, Associate Director GFI Israel; Adv. Naama Kaufman-Fass Director General, Minister of Agriculture and Rural Development; Mr. Oded Forer, Minister of Agriculture and Rural Development; Nir Goldstein, Managing Director, GFI Israel; Hila Goldenberg, International Collaborations at GFI Israel. 
The GFI Israel team worked extensively with the Ministry of Foreign Affairs and multiple Israeli embassies to advance alternative protein and global collaborations,

including the embassies in Japan, Singapore, and China. We also presented the case for alternative proteins in several international forums, including

a FoodTech event that GFI organized with the Israeli Economic Mission to Rome, and at

a diplomatic conference dedicated to alternative proteins, organized by the Israeli Ministry of Foreign Affairs and the Israeli Export Institute. The latter was a quarterly summit of the 3+1 Alliance Israel-Cyprus-Greece and the US, which was attended by over 100 participants and also featured product sample tasting and presentations by five Israeli startups. 

As part of these efforts, we created a "diplomat toolkit" which Israeli diplomats can use to leverage alternative protein during their mission, and worked with the Ministry of Foreign Affairs to create a video series focused on Israeli alternative protein innovation. The first video about cultivated meat

featured Aleph Farms and Future Meat and was published on the social media channels of the Ministry and seven foreign Israeli embassies, reaching a combined follower count of nearly seven million individuals. The video also got coverage globally, including in the

India press

.
GFI Israel launched a local grant program, funding two exploratory research proposals at the Hebrew University of Jerusalem

, one for the development of injection-molded steak and another for a cost-effective extraction of high-quality Rubisco protein from a green waste of common crops. This pilot was expanded to researchers from the Volcani Institute, MIGAL Galilee Research Institute and Ben-Gurion University. These grants build on and help us expand the Israeli

Academic Researcher Database

also created this year, which includes 30 researchers actively involved in alternative proteins and 330 researchers interested and relevant to the field . The exploratory grant program was an addition to the 3 Israeli research grants provided through GFI's global grant programs, bringing GFI's overall funding of alternative protein research in Israel to 1.5 million USD. 
GFI Israel organized an invite-only Alternative Protein Leaders Meetup for more than 200 industry stakeholders in June

. The Israeli Minister of Innovation, Science and Technology declared that she would "work to increase academic scientific research and strengthen important infrastructure […] and to release barriers in the field of regulation so they aren't a bureaucratic barrier to the next great scientific or industrial discovery." The CEO of the Israeli Innovation Authority declared that he would "do everything possible to promote Israel's leadership in the field of alternative protein."
Mr Dror Bin, CEO Israel Innovation Authority; Sarit Farkash Hacohen, The Minister of Innovation, Science and Technology; Nir Goldstein, Managing Director, GFI Israel; Anya Eldan, VP Innovation Authority and Head of Startup Division & Business Development 
Israel Innovation Authority;
To support the incredible surge in startups and innovation, GFI Israel launched the Startup Manual – Israel Edition

in early 2021 and launched the inaugural "

Israel State of Alternative Protein Innovation Report

." It covers the whole of the Israeli alternative protein ecosystem and demonstrates the fast growth and promise of this sector for the country. GFI Israel Business Engagement Manager Aviv Oren and Managing Director Nir Goldstein presented the Israel Innovation Report to over 200 attendees across two webinars.
Alternative proteins have become a prominent news feature in Israel, with GFI showcasing their benefits on several of Israel's top media outlets.

Among these, GFI Israel Managing Director Nir Goldstein was

interviewed

by Israel's leading business magazine,

The Marker

. The title reads "Israel has no strategic assets in meat production, but we have significant strategic assets in alternative protein R&D."
Alla Voldman, Director of Strategic Alliances, published an op-ed in Ctech, the English version of Calcalist, one of Israel's leading financial magazines. Alla highlighted the need for the Israeli government to keep prioritizing funding and policy in favor of alternative proteins, noting that the "lack of infrastructure for production and the (in)ability to launch the products in Israel due to regulation leads to an alarming trend of companies moving their operation abroad." 
Join us for the next year of progress.
GFI's work with scientists, investor communities, policymakers, and companies across the supply chain, as well as our research grant program, is 100% fueled by philanthropy. Thanks to our family of donors, we are able to advance the alternative protein ecosystem by focusing on solutions that are global, tractable, and high-impact. If you are interested in learning more about giving to GFI, please visit here or contact israel@gfi.org.